Floyd Mayweather Purchases Knockout Miami Beach Mansion for $18
Chalk up another win for the undefeated Floyd Mayweather. His latest victory is in the arena of real estate.
We've tracked the many mansions of the professional boxer, who admitted on Instagram that he's collected "many homes." He's recently added to his holdings again, dropping $18 million on a Miami Beach mansion, the Real Deal reported.
The purchase was executed through a Nevada entity run by Mayweather, the publication noted.
Built in 2011, the contemporary mansion landed on the market earlier this year with a $20.9 million asking price. In April, the price was cut to $19.9 million, which may have enticed Mayweather to step into the ring and make an offer.
With almost 11,000 square feet, the posh place includes nine bedrooms and 10.5 bathrooms on three levels. The gated estate sports an indoor movie theater, gym, game room, a large ground-floor entertainment area, smart house systems, and elevator for easy access to all floors.
Set on a third of an acre, the space is designed for outdoor living, complete with a pool and pool deck, outdoor kitchen, and multiple areas for lounging and entertaining. The roof deck offers unobstructed views of the city skyline.
The waterfront estate on the guard-gated Palm Island features a private dock that can accommodate boats up to 100 feet, the listing notes. It's perfect for the new homeowner, who appears to enjoy the life aquatic. He posted an Instagram photo from the water, with the simple caption "Yacht life."
Mayweather, 44, has long been into the Vegas life as well. He famously owned a custom-built mansion in Sin City dubbed Big Boy. He then moved into a 22,000-square-foot estate that he picked up in 2018 for $10 million.
In addition, he reportedly owns a $26 million mansion in Los Angeles that he bought after winning his fight against Conor McGregor in 2017.
One problem with owning so many homes: more exposure to seedier folks seeking some of Mayweather's stacks of cash.
Mayweather retired with a perfect record of 50 wins, with 27 knockouts. Known as "Money," as of 2019 he was one of the top-earning athletes of the last decade, banking $915 million, according to Forbes
Floyd Mayweather Jr. is really living it up with his latest real estate purchase.

Floyd Mayweather Jr.
Floyd Mayweather Jr.

Statistics

Nickname(s)

Pretty Boy
Money
TBE ("The Best Ever")

Weight(s)

Height
5 ft 8 in (173 cm)
Reach
72 in (183 cm)
Nationality
American
Born
Floyd Joy Sinclair
February 24, 1977

(age 44)


Grand Rapids, Michigan, U.S.
Stance
Orthodox
Boxing record
Total fights
50
Wins
50
Wins by KO
27
Losses
0
Floyd Joy Mayweather Jr. (born Floyd Joy Sinclair; February 24, 1977) is an American professional boxing promoter and former professional boxer. He competed between 1996 and 2015, and made a one-fight comeback in 2017. During his career he won fifteen major world championships from super featherweight to light middleweight, including the Ring magazine title in five weight classes, the lineal championship in four weight classes (twice at welterweight), and retired with an undefeated record. As an amateur, Mayweather won a bronze medal in the featherweight division at the 1996 Olympics, three U.S. Golden Gloves championships (at light flyweight, flyweight, and featherweight), and the U.S. national championship at featherweight.
Mayweather was named "Fighter of the Decade" for the 2010s by the Boxing Writers Association of America (BWAA), a two-time winner of The Ring magazine's Fighter of the Year award (1998 and 2007), a three-time winner of the BWAA Fighter of the Year award (2007, 2013, and 2015), and a six-time winner of the Best Fighter ESPY Award (2007–2010, 2012–2014). In 2016, Mayweather was ranked by ESPN as the greatest boxer, pound for pound, of the last 25 years.[3] As of May 2021, BoxRec ranks him the greatest boxer of all time, pound for pound. Many sporting news and boxing websites, including The Ring, Sports Illustrated, ESPN, BoxRec, Fox Sports, and Yahoo! Sports, ranked Mayweather as the best pound-for-pound boxer in the world twice in a span of ten years.
He is often referred to as the best defensive boxer in history, as well as being the most accurate puncher since the existence of CompuBox, having the highest plus–minus ratio in recorded boxing history.[13][14][15] Mayweather has a record of 26 consecutive wins in world title fights (10 by KO), 23 wins (9 KOs) in lineal title fights, 24 wins (7 KOs) against former or current world titlists, 12 wins (3 KOs) against former or current lineal champions, and 4 wins (1 KO) against International Boxing Hall of Fame inductees. Mayweather was inducted into the International Boxing Hall of Fame in the class of 2021.
Mayweather is one of the most lucrative pay-per-view attractions of all time, in any sport. He topped the Forbes and Sports Illustrated lists of the 50 highest-paid athletes of 2012 and 2013, and the Forbes list again in both 2014 and 2015,  listing him as the highest-paid athlete in the world.  In 2006, he founded his own boxing promotional firm, Mayweather Promotions, after leaving Bob Arum's Top Rank.  Mayweather has generated approximately 24 million PPV buys and $1.67 billion in revenue throughout his career, surpassing the likes of former top PPV attractions including Mike Tyson, Evander Holyfield, Lennox Lewis, Oscar De La Hoya and Manny Pacquiao. In 2018, Mayweather was the most-paid athlete in the world, with earnings amounting to $275 million.
Titles in boxing
Major world titles
Minor world titles
The Ring magazine titles
Honorary titles
Pay-per-view bouts
Professional boxing
United States
No.
Date
Fight
Billing
Buys
Network
Revenue
1
Gatti vs. Mayweather
Thunder & Lightning
340,000[282]
HBO
$16,500,000
2
Mayweather vs. Judah
Sworn Enemies
374,000[283]
HBO
$16,800,000
3
Mayweather vs. Baldomir
Pretty Risky
325,000
HBO
$16,300,000
4
De La Hoya vs. Mayweather
The World Awaits
2,400,000[284]
HBO
$136,000,000
5
Mayweather vs. Hatton
Undefeated
920,000[285]
HBO
$50,000,000
6
Mayweather vs. Márquez
Number One/Número Uno
1,100,000[286]
HBO
$55,600,000
7
Mayweather vs. Mosley
Who R U Picking?
1,400,000[287]
HBO
$78,300,000
8
Mayweather vs. Ortiz
Star Power
1,250,000[288]
HBO
$78,440,000
9
Mayweather vs. Cotto
Ring Kings
1,500,000[289]
HBO
$94,000,000
10
Mayweather vs. Guerrero
May Day
1,000,000[290]
Showtime
$60,000,000
11
Mayweather vs. Canelo
The One
2,200,000[291]
Showtime
$150,000,000
12
Mayweather vs. Maidana
The Moment
900,000[292]
Showtime
$58,000,000
13
Mayweather vs. Maidana II
Mayhem
925,000[293]
Showtime
$60,000,000
14
Mayweather vs. Pacquiao
Fight of the Century
4,600,000[294]
Showtime/HBO
$400,000,000
15
Mayweather vs. Berto
High Stakes
400,000[295]
Showtime
$28,000,000
16
Mayweather vs. McGregor
The Money Fight
4,300,000[296]
Showtime
$370,000,000
17
Mayweather vs. Paul
Bragging Rights
1,000,000[297]
Showtime
$50,000,000
Total sales
24,959,000
$1,717,940,000
United Kingdom

| Date | Fight | Network | Buys | Source(s) |
| --- | --- | --- | --- | --- |
| December 8, 2007 | Floyd Mayweather Jr. vs. Ricky Hatton | Sky Box Office | 1,150,000 | [298] |
| May 2, 2015 | Floyd Mayweather Jr. vs. Manny Pacquiao | Sky Box Office | 942,000 | [299][300] |
| August 26, 2017 | Floyd Mayweather Jr. vs. Conor McGregor | Sky Box Office | 1,007,000 | [301][302] |
| | Total sales | Sky Box Office | 3,099,000 | |
WWE
Floyd Mayweather
Floyd Mayweather 2021: Record, Net Worth, Salary and Endorsements
Floyd Mayweather Jr is an American former professional boxer. His tenure lasted from 1996 to 2015. However, he made a comeback to fight MMA giant Conor McGregor in a crossover fight in 2017.
The fight between Mayweather and the Irishman was one of the biggest events in the history of Combat sports. Mayweather took the win that night, following which he vowed never to return to the boxing ring to fight.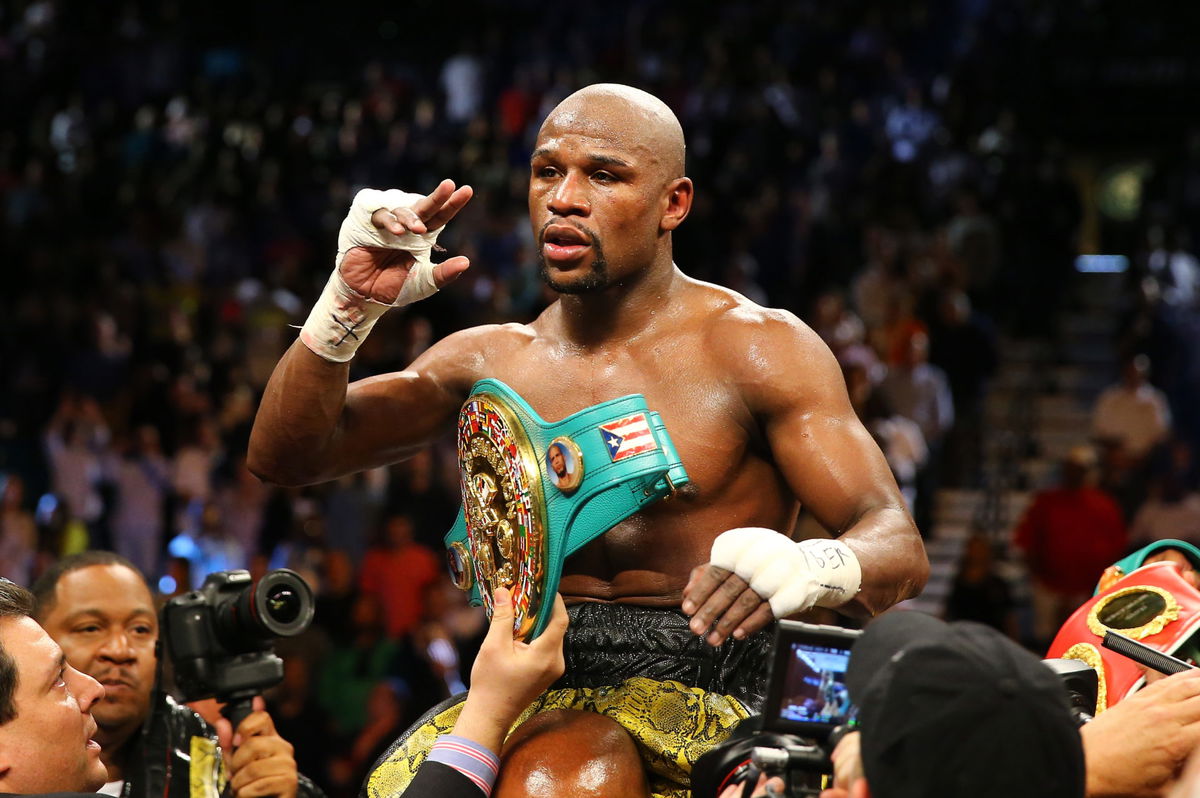 Mayweather is most famous for his perfect record and his lavish lifestyle. Both things that he has maintained even in 2021.
The former multi-weight world champion has a busy 2021 with news emerging that he will take on YouTuber turned boxer Logan Paul in an exhibition fight. This will give fans the opportunity to watch Mayweather back in action in 2021.
Floyd Mayweather: Record 2021
There's a saying that Pretty Boy believes in, it goes like, "Women lie, Men lie, Numbers don't lie." When one thinks about the saying, it seems pretty meaningless.
However, it makes more sense when one considers Mayweather's exploits throughout his career. And rightly so, with his stupendous record of 50 wins and 0 losses.
To reign over the championship level for almost two decades is nothing short of a remarkable feat. So much so, that it seems like his success has been at mythical proportions.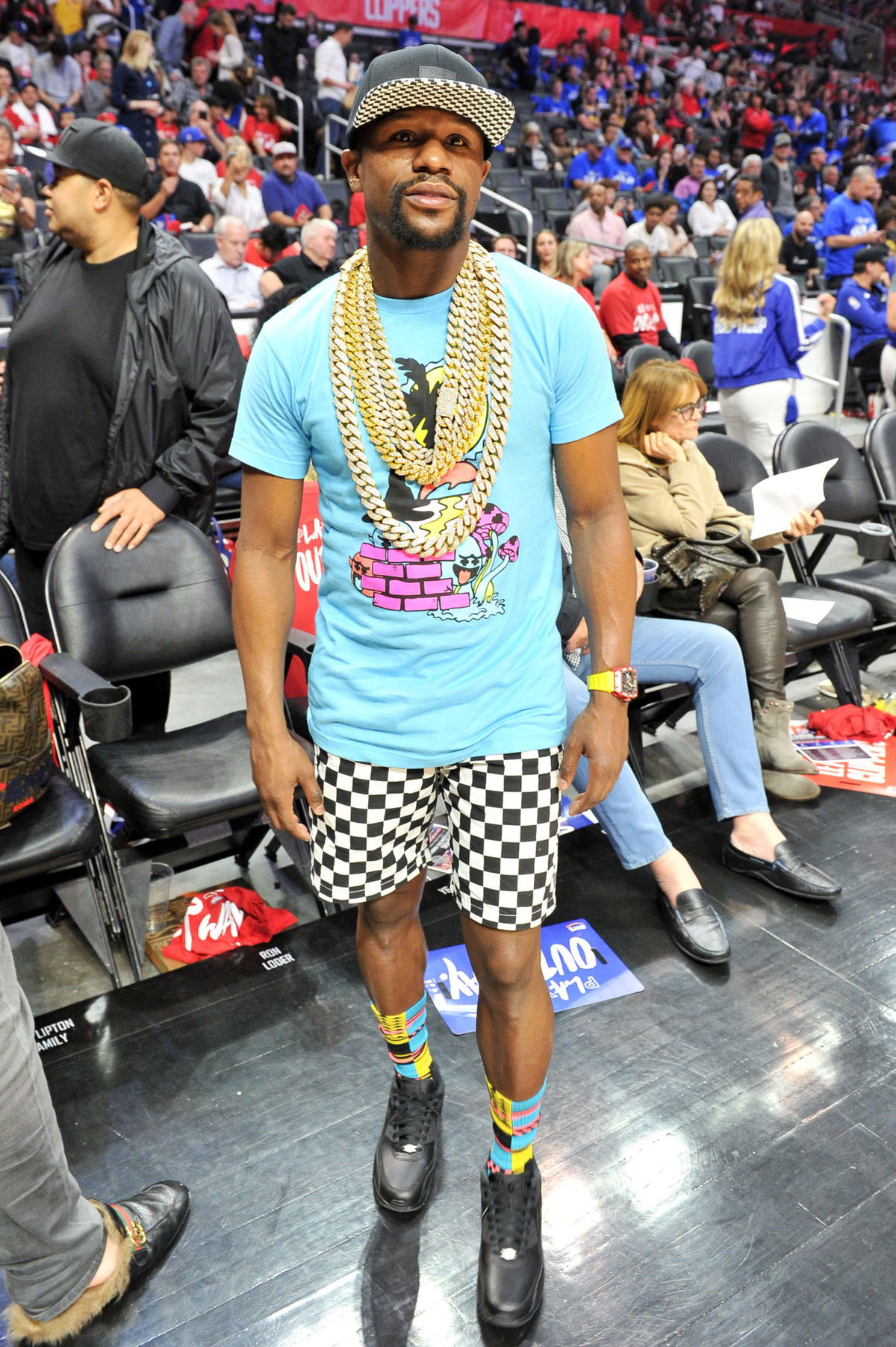 Throughout the course of his storied career, he has collected 19 major world titles, including The Ring in five weight classes, the lineal championship in four weight classes (twice at welterweight).
As an amateur, Mayweather won Bronze in the featherweight division at the 1996 Olympics. Other than that, Money has also amassed a collection of three U.S. Golden Gloves championships (at light flyweight, flyweight, and featherweight)
Floyd Mayweather: Net Worth 2021
Floyd Mayweather is popularly known as 'Money' and rightly so, for his net worth stands at a shocking $450 million in 2021 according to wealthygorrilla.com. However, Mayweather himself has revealed he is worth a reported $1.2 billion.
As per Forbes, Mayweather earned a whopping $1 billion in prize money alone in his career.
Reigning over the world of combat sports with a winning streak of 50 fights intact has its own perks and benefits. Keeping all his sponsorships, endorsements, and fight purses in mind, it is fair to say that the boxing legend has earned more than a decent living.
This will only increase in 2021 with the lucrative exhibition fight against Logan Paul. Thus, you can expect this figure to rise exponentially.
Floyd Mayweather: Foundation and Charities
With great wealth, comes great responsibility to help others in need. And Mayweather has never backed away from the same. He set up the Floyd Mayweather Jr Foundation to empower community alliances, help create an audience for youth leadership, create a platform to support health and wellness, and working on community development as a whole.
He is also associated with multiple foundations like:
Floyd Mayweather Jr Foundation
Muscular Dystrophy Association
Shriners Hospitals for Children
Floyd Mayweather: Endorsements
One of Mayweather's biggest endorsement is his deal with famous watch company Hublot. The star has been sported wearing the watches on multiple occasions. He has since started his own boxing promotion to go with the numerous other sponsors and endorsements he has collected over the years.
| | |
| --- | --- |
| Age | 43 |
| Height | 5'8″ |
| Reach | 72″ |
| Total Fights | 50 |
| Wins | 50 |
| Wins By KO | 27 |
| Losses | 0 |
| Draws | 0 |
| Net Worth | $1.2 Billion |
| Marital Status | Unmarried |
| Spouse | N/A |
| Nationality | American |