Lewis Hamilton wins Spanish Grand Prix in fifth straight Mercedes one-two
Lewis Hamilton won the Spanish Grand Prix for a third consecutive year after overtaking Mercedes teammate Valtteri Bottas at the first turn in Barcelona.
Lewis Hamilton beat teammate Valtteri Bottas to win the Spanish Grand Prix for a third consecutive year on Sunday, securing a fifth one-two finish for Mercedes to start the Formula One season.
Hamilton's third win of the campaign let him take the championship lead by seven points over Bottas, who had entered the race with a one-point advantage.
Although the Finnish driver began on pole position after going fastest in qualifying on Saturday, Hamilton sped past his championship rival just seconds into the fifth race of the season.
Up until the weekend, the Mercedes pair had shared two race wins apiece in Australia, Bahrain, China and, last time out, in Azerbaijan. However, despite Bottas starting from a more advantageous position on the grid, the five-time world champion shot past him almost immediately and never looked back.
Hamilton was full of praise for his employer as he celebrated his win in the immediate aftermath.
"I have to put it down to this incredible team," the Englishman said. "This is history in the making, with five one-two finishes in a row. I'm so happy for every one of them.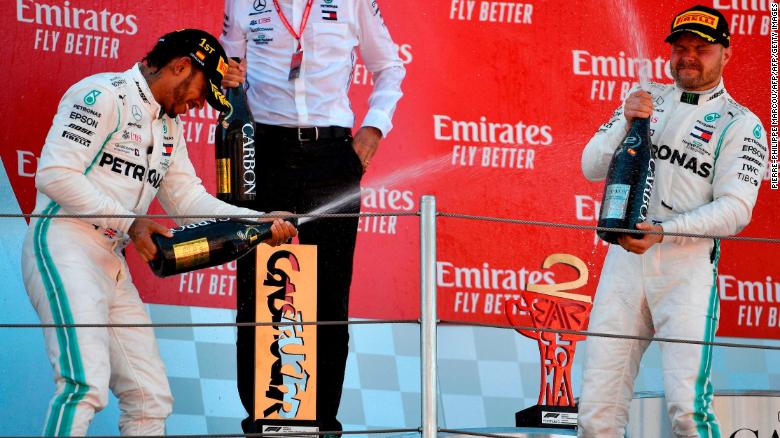 He added: "She's a great car but we don't always get along — I'm glad in the race we could settle our difference. An interesting start, very, very close."
Indeed, the result extended Mercedes' perfect record in the 2019 season, with both Hamilton and Bottas taking the top two positions on the podium in all five races since this year's action began in Melbourne.
Ferrari's Sebastian Vettel, who has endured a frustrating start to this year's series, was left less than happy once again. After attempting to challenge the two Mercedes cars at the start, he found himself temporarily forced wide off the track, as per his fortunes in recent times.
He recovered from a less than ideal opening to finish fourth, though he damaged his tires in the process. Red Bull's Max Verstappen clinched the final spot on the podium, and was voted as the F1 driver of the day.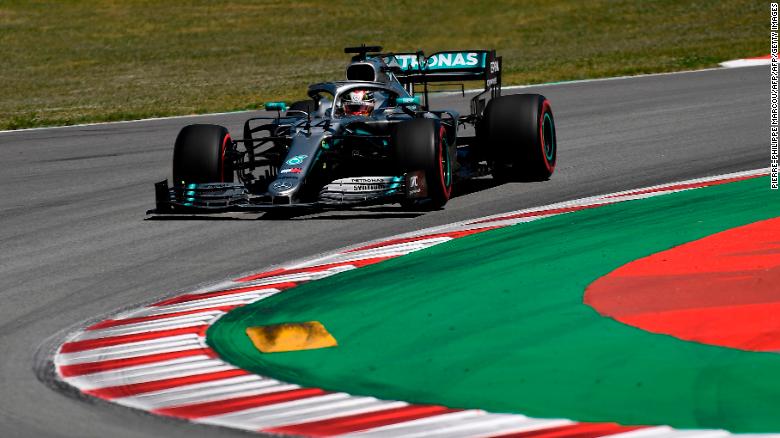 Verstappen admitted his delight at making it onto the podium at all, saying: "The Mercedes is too quick."
Bottas, meanwhile, bemoaned what he described as a "pretty tight" start, while also hinting at issues with his own vehicle.
"There was some strange behavior on the clutch, I've never felt it before," he said. "I lost it there.
"As a team it's incredible, the fifth one-two in a run is really good. I got some points and that's important, every point will count, but I have to find out what happened at the start."
Lewis Hamilton is making sure he is in control of every tiny detail as he aims to become F1 world champion for a fifth season.
Mercedes superstar Hamilton has won five championships, including the last two editions, to become the most successful British driver of all-time.
He has started the 2019 season in top form as well winning two of the first four races, in Bahrain and China, and coming second to teammate Valtteri Bottas in Australia and Azerbaijan.
Hamilton has put those down to a number of small advantages he can eke out thanks to things like seamless underwear and refusing a drinks bottle.
Hamilton said: "There is a broad area to focus on, but I think there will be small nuances and small percentages that will make a difference.
"There are lots of small little areas, one of them is from the driving side another is from the strategy side and with the car, I think we have done well with it trying to extract the best out of it each weekend."
"I have to put it down to this incredible team," the Englishman said. "This is history in the making, with five one-two finishes in a row. I'm so happy for every one of them.
MORE ON MR. F1 GOAT!!!!!!
Lewis Carl Davidson Hamilton MBE (born 7 January 1985) is a British racing driver who races in Formula One for Mercedes-AMG Petronas Motorsport. A five-time Formula One World Champion, he is often considered the best driver of his generation and widely regarded as one of the greatest drivers in the history of the sport. He won his first World Championship title with McLaren in 2008, then moved to Mercedes where he won back-to-back titles in 2014 and 2015 before winning back-to-back titles again in 2017 and 2018. The most successful British driver in the history of the sport, Hamilton has more World Championship titles (5) and more race victories (76) than any other British driver in Formula One. He also holds records for the all-time most career points (3,130), the most wins at different circuits (26), the all-time most pole positions (84) and the most grand slams in a season (3).
Born and raised in Stevenage, Hertfordshire, Hamilton's interest in racing started when his father bought him a radio-controlled car when he was six. He was signed to McLaren's young driver support programme in 1998, after he approached McLaren team principal Ron Dennis at an awards ceremony three years earlier and said "one day I want to be racing your cars". After winning the British Formula Renault, Formula 3 Euro Series, and GP2 championships on his way up the racing career ladder, he made his Formula One debut twelve years after his initial encounter with Dennis, driving for McLaren in 2007. Coming from a mixed background, with a black father and white mother, Hamilton is the first and only black driver to race in Formula One.
In his first season in Formula One, Hamilton set numerous records as he finished runner-up in the 2007 season to Kimi Räikkönen by just one point, including those for the most consecutive podium finishes from debut (9), the joint most wins in a debut season (4) and the most points in a debut season (109). The following season, he won his first title in dramatic fashion; on the last corner of the last lap in the last race of the season, becoming the then-youngest Formula One World Champion in history. After four more years with McLaren without finishing higher than fourth in the drivers' standings, Hamilton signed with Mercedes in 2013, reuniting with his childhood karting teammate, Nico Rosberg. In his first season, he finished 4th once again, the third time in five years.
Changes to regulations mandating the use of turbo-hybrid engines contributed to the start of a highly successful era for Hamilton and Mercedes, during which he has won a further four World Championship titles. Hamilton won consecutive titles in 2014 and 2015 during an intense and sometimes volatile rivalry with teammate Nico Rosberg, to match his hero Ayrton Senna's three World Championships. Following Rosberg's retirement, Ferrari's Sebastian Vettel became Hamilton's closest rival as the pair engaged in two intense championship battles, but Hamilton prevailed to claim consecutive titles for the second time in his career in 2017 and 2018, joining Juan Manuel Fangio and Michael Schumacher as drivers with five or more World Championship titles.